'
System:
Produced: -
Manufacturer:
Price:
Features
DRAM:
BRAM:
Save states:
Slow motion:
RAM expansion:
DSP support:
Cart Utikities:
Disk Utilities:
Goldfinger:
X-terminator:
Datel Action Replay:
GUI:
Supported Media:
Compatible with:
Manual: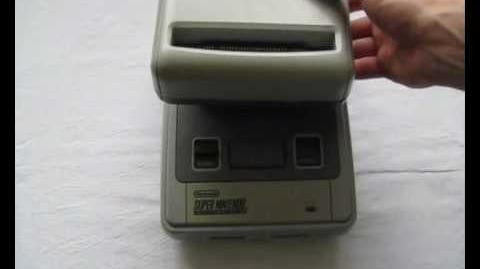 The SNES version of the Super Magic Drive, had an external Floppy disk drive with either 8 or 16M RAM to load games to. Had an adapter for Mega Drive game carts available. The box has both the Front Fareast and China Coach ltd. logos, so I don't know if this might have been a joint effort between the two(?).
It was released in Europe By Neil Gossage of S.N. Software Ltd back in 1992. All versions came with a PC HD format program again written by S.N. Software Ltd allowing you to format and read the disk to 800k or 1.6mb.
They also released a SEGA Megadrive / Genesis version.
The updated version featured a built in Floppy Drive.
Comment 1:
* Fits into the Super Famicom, Super N.E.S. (US & UK versions)
* 8 Megabits RAM (1MEG) onboard (expandable to 16Mbit)
* 256k Battery Backed RAM (save to disk for RPG games etc.)
* 3.5" High Density Disk control (drive supplied) 720/800k/1.44/1.6Meg
* PC-Link interface through Parallel, Edit/Upload/Download files..
* Auto download cartridge to disk - or play cartridge directly
* DOS can be updated by disk (a la Kickstart image files)
* Serves as converter, i.e. plug Jap & American carts into your copier
* Play Japanese games on your Super NES with lockout chip (disk only)
* WILL COPY GAMES WITH EXTRA MATHS PROCESSOR CHIPS
(requires any cartridge that uses the same chip to be installed)

If you have suitable disks then you can load games and save onto other suitable disks.
You CAN now copy the HD disks with its own disk copy function.. The util loads into the copier as a separate program, and can be downloaded from various boards, or given when purchased if preferred.
If you own a PC you can copy the HD disks, even 1.6meg format - with our special patch program that makes PC read/write 800k & 1.6 meg formats.